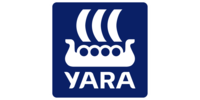 Yara International
Yara International ASA is a Norwegian-based chemical company. Its largest business area is the production of nitrogen fertilizer, however it also encompasses the production of dry ice, nitrates, ammonia, urea and other nitrogen-based chemicals.
The company has 3 areas of main activity:
Industrial Products: produce a wide range of nitrogen and specialty chemicals in addition to CO2, dry ice, and civil explosive solutions.
Environmental Solutions: solutions for NOx abatement, odor control, water treatment and corrosion prevention.
Agricultural Products: complete portfolio of fertilizer covering all necessary nutrients for any crop.
Structurally, there are 3 business platforms and operating segments (Upstream, Downstream, and Industrial), coordinated through the Supply and Trade platform to ensure synergies:
Upstream: the production of nitrogen-based products for fertilizer and industrial uses.
Downstream: the sales, marketing, and distribution activities around the globe.
Industrial: development and processing of environmental solutions and industrial activities.
Supply and Trade: optimization of energy, raw materials, sourcing, logistics, and shipping
Find out what chemical companies are investing in