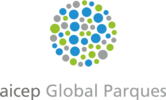 aicep Global Parques
Full ECSPP member since 1 January 2016

Rua de Artilharia Um, 79 7°
1250-038 Lisboa
Portugal
Miguel Borralho
ZILS Manager
aicep Global Parques is a specialist in industrial, energy and logistic&services parks management and in business location. Its focus is to offer global solutions for enterprise location and provide procurement services for the installation of business activities, ensuring the conditions for attracting and monitoring the installation of domestic and foreign investment projects.
aicep Global Parques' values are based on continuously improving its performance, with the aim of achieving excellence as an organisation that is:
Modern, efficient, and customer-orientated;
Supported by the continuous development of its employees;
Institutionally linked to public and private partners;
Financially sustainable;
Socially liable;
Publicly recognised within its scope of business.
Environmental and sustainable development oriented.