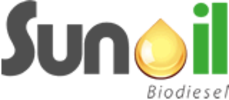 Sunoil

7821 AT Emmen
The Netherlands
Sunoil Biodiesel was founded in 2005 and installed the first biodiesel factory in The Netherlands.
At first, vegetable oils were used as feedstock for the biodiesel production, but already in 2007 Sunoil Biodiesel invested in the adaptation of its facility for the application of Used Cooking Oil (UCO) and animal fats as feedstock. As these concern a waste stream of other industries, the produced biodiesels are acknowledged as advanced biodiesel, which is significantly more sustainable than the conventional biodiesels made out of vegetable oils.
Due to the continues development and investments that have been made in the production process, Sunoil Biodiesel consistently produces a high quality advanced biodiesel in an efficient way. Sunoil Biodiesel is now only producing UCOME (Used Cooking Oil Methyl Esther) at its facility. This product realizes a CO2 reduction of about 85% compared to conventional diesel.
The factory in Emmen (North-East of the Netherlands) has a capacity of about 80 million liters (approx. 22 million gallons) biodiesel per year. The product quality is in accordance with the European standard EN14214 and the American standard ASTM D6751. Our facility is ISCC EU and ISCC DE certified. Besides production, we are active in the trade of biodiesels and feedstock.
Find out what chemical companies are investing in