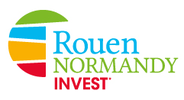 Rouen Normandy Invest

10 Quai de la Bourse
76000 Rouen
France
Rouen Normandy Invest, a team of experts dedicated to ensuring your relocation to the Rouen metropolitan area is a success
Working with businesses and local authorities, Rouen Normandy Invest provides the support and expertise required by any company wishing to relocate to Rouen or in the metropolitan area, particularly those working in the sectors of added-value services, innovation (digital, health/biotech, environmental technologies, etc.), transport and logistics.
Finding the requisite land or real estate, defining the company's requirements, making contacts with the relevant correspondents depending on the target sector, administering grant and subsidy requests, finding accommodation for employees on the move for professional reasons, are just some of the tasks carried out by Rouen Normandy Invest for business.
In addition, as part of its assignment to promote business in the region, the agency helps to construct the identity of its capital. It helps develop the attractiveness of the metropolitan area, and more broadly its travel-to-work area, by intervening in all economic development projects.
Defining the policy for the region's economic development, consolidating emerging sectors, taking part in development projects and the planning of business sites are, as such, part of its ongoing actions.
Research the European chemical industry