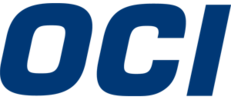 OCI

1071 DC Amsterdam
The Netherlands
OCI N.V. is a global producer of natural gas-based fertilizers and industrial chemicals based in the Netherlands. 
OCI N.V. produces nitrogen fertilizers, methanol and other natural gas based chemical products, serving agricultural and industrial customers around the world. We rank among the world's largest nitrogen fertilizer producers, and can produce nearly 8.4 million metric tons of nitrogen fertilizers and industrial chemicals at production facilities in the Netherlands, the United States, Egypt and Algeria. We expect total production capacity to exceed 12.5 million metric tons in 2017. 
OCI N.V. employs approximately 3,000 people and is listed on the NYSE Euronext in Amsterdam under the symbol "OCI".
Find out what chemical companies are investing in