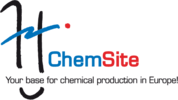 Chemsite

Paul-Baumann-Straße 1
D-45772 Marl
Germany
ChemSite is the chemical and plastics cluster in the Ruhr region and the central contact for all issues and topics along chemistry and its value chains following the motto: "One face to the customer".
Under the ChemSite umbrella brand, the initiative bundles all topics related to chemistry and plastics focusing on: relocation of enterprises to existing chemical and industrial sites in the region, creation of innovative networks between enterprises and between enterprises and science, support of small and medium-sized enterprises and start-ups, improvement of the general conditions for the chemical industry and related industries, vocational training and qualification of staff members.
With the foundation of the ChemSite Initiative in 1997, a "public-private partnership" of model character was founded jointly with partners from the chemical industry, the state government of North Rhine-Westphalia, the communities in the region, the district government of Münster as well as further partners from politics, economy, and public authorities.
Core Sectors / Industries
Chemicals and Plastics
Castrop-Rauxel, Nordrhein-Westfalen,
Germany
Total area: 106.0ha
Free: 25.0ha
Dorsten, Nordrhein-Westfalen,
Germany
Total area: 70.0ha
Free: 30.0ha