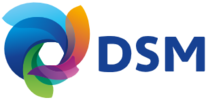 DSM-Firmenich

Po Box 6500
6401 JH Heerlen
The Netherlands
The combination of Firmenich and DSM will establish the leading creation and innovation partner in nutrition, beauty and well-being with four high-performing and complementary businesses, each with pioneering, leadership positions:
Perfumery & Beauty, with combined revenues of €3.3bn, will be the foremost creator of positive fragrances and beauty products and a global aroma ingredients business that together have leadership in renewable, natural, proprietary biodegradable and biotechnology-derived ingredients. Firmenich's leading global Perfumery and Ingredients business will expand into Beauty through the addition of DSM's Personal Care & Aroma business to delight consumers with superior sensorial experiences and differentiated performance, delivering active benefits, addressing clean & hygiene, health & reassurance and emotion & well-being
Food & Beverage / Taste & Beyond, with combined revenues of €2.7bn, will form a global-scale partner to the food and beverage industry with extensive capabilities in taste, nutrition and functionality in order to provide delicious, nutritious and sustainable products that deliver unique and superior consumer experiences. The new business will lead the diet transformation in creating healthier, great-tasting, accessible food and beverages with more natural and sustainable ingredients, including market and innovation leadership in naturals and clean label products; in plant-based foods; and in supporting a superior taste experience whilst enhancing food's nutritional profile (for example with vitamins, probiotics, and lipids and reducing sugar and salt)
Health, Nutrition & Care, with revenues of €2.2bn, will continue its development as an end-to-end partner providing customized quality solutions that support the health of people at every life stage. It will aim to keep the world's growing population healthy through a broad portfolio of sustainable, science-backed innovative solutions, addressing consumers' health and lifestyle needs, for customers in the dietary supplements, early-life nutrition, pharmaceuticals, medical nutrition, nutrition improvement for the under-nourished, and medical devices markets
Animal Nutrition & Health, with revenues of €3.3bn, will continue to focus on specialty science- and technology-driven solutions to the ever-increasing demand for protein such as meat but also eggs, fish and dairy, while also alleviating the pressure on the planet's finite natural resources. The business is leading a robust and achievable transformation to make animal farming worldwide radically more sustainable by empowering farmers with essential products such as vitamins. It is one of the world's largest suppliers of eubiotics, enzymes, and mycotoxin risk management, as well as a wide range of impactful innovations such as methane inhibitor Bovaer® and fish-oil algae-alternative Veramaris®
The four businesses will be supported by a world-class foundation in science and technology, a vertically integrated portfolio of nutrition, natural and renewable ingredients, as well as best-in-class business functions. Both DSM and Firmenich have successful track records of delivering ground-breaking innovations that create and reshape markets for growth (for example Bovaer®, Veramaris®, biodegradable fragrance encapsulation, renewable fragrance materials, sugar and salt reduction, plant-based foods, fermentation processes for human milk oligosaccharides, and lipids). DSM-Firmenich will operate at the highest safety and quality standards, with strong regional manufacturing presence ensuring supply continuity, resilience and trust for our customers. DSM-Firmenich will continue the two companies' relentless commitment to sustainability across the value chain.
Find out what chemical companies are investing in