Expansion of electrolysis in the Brückl plant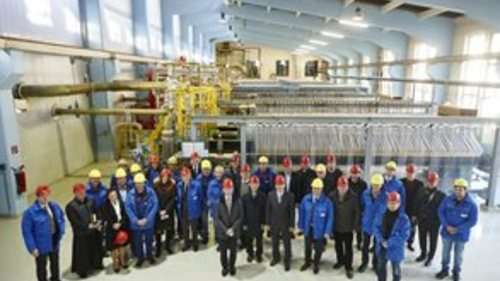 Donau Chemie AG is continuously investing in the expansion and modernization of the plants. Two electrolyzers of the latest technology were put into operation at the Brückl plant.
On the occasion of a celebration for the successful commissioning of the electrolyzers, CEO Franz Geiger, CEO, emphasized today in the presence of representatives from the worlds of politics and business: "Our investment of 7 million euros in the Brückl plant on the other hand sets a clear commitment to the location and on the other new standards Energy efficiency and energy saving at the Brückl plant ". "By using 2 membrane electrolyzers of the latest generation, we are using the so-called zero-gap technology in our plant, which leads to considerably lower power consumption!"
In addition to energy savings, there are also advantages such as capacity increase (7%), higher availability and quality as well as greater flexibility in production. At the same time, there is also a lasting improvement in the environmental balance - CO2 savings will be 5,326 tonnes per year if the production remains the same.