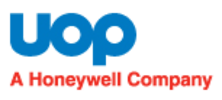 UOP
Associate ECSPP member since 1 January 2006
For nearly 100 years, Honeywell's UOP has been the leading international supplier and licensor for the petroleum refining, gas processing, petrochemical production and major manufacturing industries. As a respected pioneer, we are responsible for developing and implementing some of the most useful, original technologies in the world.
Today more than 60 percent of the world's gasoline and 85 percent of biodegradable detergents are made using UOP technology.
UOP has roots dating back to 1914. Our extensive patent portfolio began when revolutionary inventor Jesse A. Dubbs commercialized the Dubbs thermal cracking process, setting the technological foundation for today's modern refining industry.